BikePerfect Verdict

Hope'southward new Tech four E4 is exceptional. It's got much more ability, a silk-smooth experience and improve pads, and fantastic syncing of all three for superlative control. It'south easier fitting, likewise, while keeping the same excellent adjustability, and legendary Uk factory and event back-up.
Pros

+

Powerful and precise

+

Silk-polish lever feel

+

Properly summit to valley floor mountain proof

+

Awesome factory and event redundancy

+

Spare pads supplied
Cons

–

Unmarried side specific, non switchable

–

'All Conditions' pad choice will suit most riders better
Why you tin can trust BikePerfect


Our adept reviewers spend hours testing and comparing products and services so you lot can choose the best for yous. Find out more virtually how we test.
Let's non tease here, Hope's new Tech 4 E4 are some of the best disc brakes I've always used, overturning years of arm exploding pain to put them pinnacle of my anchor rankings. I've been using Promise brakes since they released their first mechanical brakes in the early 90s. I had their starting time hydraulic disc brakes in the mid-90s when forks and frames didn't even take mounts on them, and I was a devoted user through their glory days. I withal have a fix of onetime V4s on my Enduro tandem too, because their reliability is faultless and that'south what matters nigh when information technology comes to keeping your daughter safe on the back in daft situations.
Our testing explained
For information on Bike Perfect'south testing procedures and how our scoring organisation works, see our how we test page.
Lack of power and resultant arm pump issues take put me off Hope's trail brakes for a while, though (the XCR is a great XC restriction and the V4 is a never fail tandem stalwart). Happily, the Lancashire visitor accept significantly revamped the design and details of their Tech lever and E4 brakes to create a brake myself and other reviewers I really trust are raving most.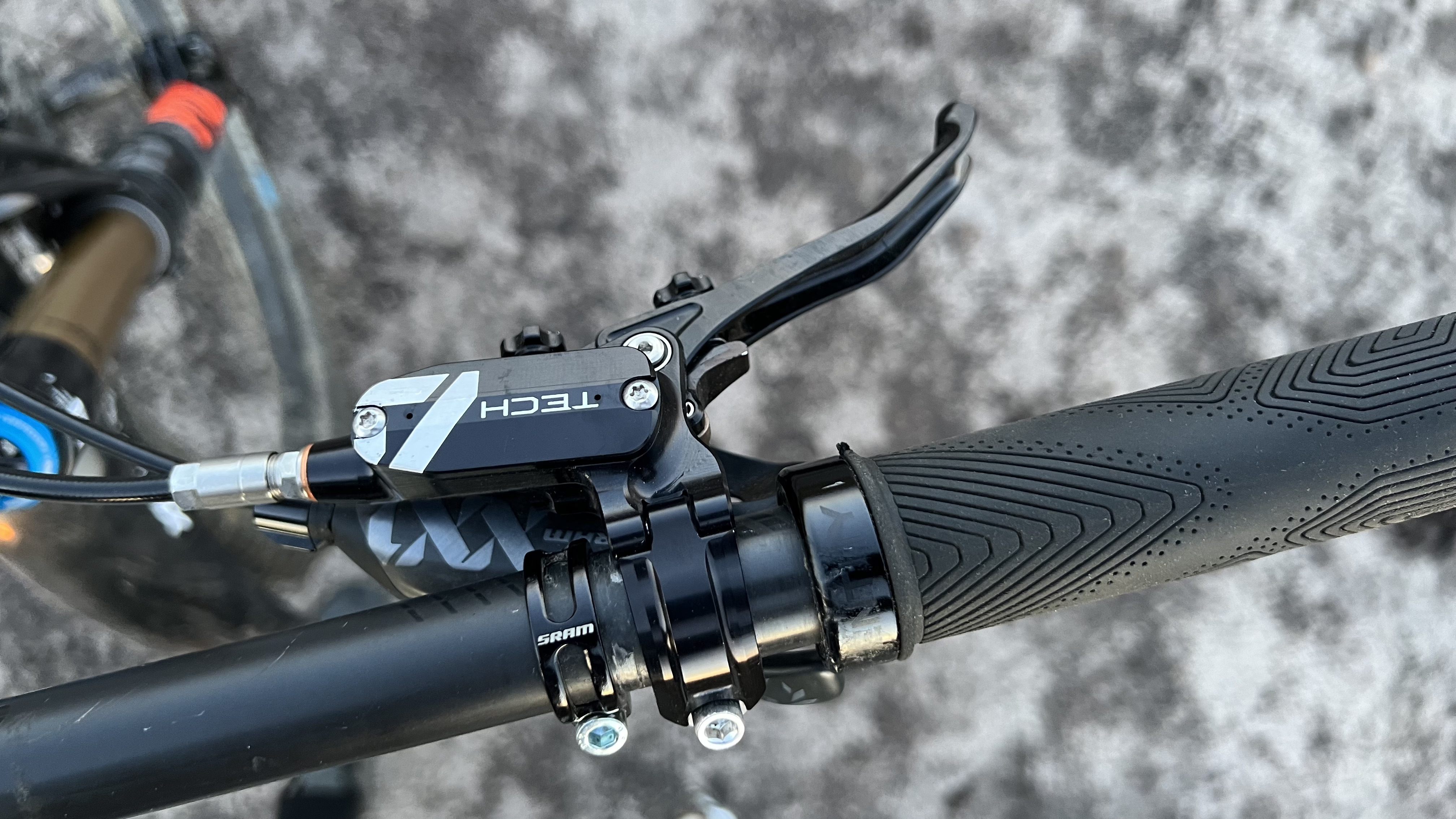 Design
At that place are some basic similarities with the old Tech 3 E4 brakes – everything just the hoses, copper washers, pads and hybrid steel/ceramic phenolic pistons are all the same machined into shape in Promise's Lancashire, United kingdom of great britain and northern ireland factory, too. In fact, in that location'south a fantastic story about how they did try making their own phenolic pistons using a machine bought from a dog beige factory. That didn't work out, just it shows how determined Hope are to brand as much every bit possible in business firm, and every restriction is assembled and checked in the factory.
The lever of the Promise Tech 4 E4
(opens in new tab)
is much longer than the Tech 3 though, with a slightly dissimilar shape leading upward to the grip drilled tip. The pin point is nearer the bars and uses a miniature roller bearing for maximum smoothness and zilch wobble. The lever besides actuates via a hard anodised roller onto the master cylinder piston cap to actually water ice the friction-free feel cake. The laser etched (in business firm, obvs) reservoir is slightly reshaped too, and the bar clamp is now hinged rather than a carve up two-bolt slice. The slots for the direct mountain SRAM or Shimano shifter/remote adaptors (sold separately) are longer so there's more aligning sideways. You notwithstanding get separate broad range bite point and lever achieve adjustment through two little knurled dials on the lever face too.
The E4 caliper is machined from a single block and hasn't changed obviously from an external POV. It uses a new stainless steel/phenolic hybrid construction for the four pistons which reduces friction and potential oestrus issues. Promise utilise a new range of pads too, including the maximum ability resin 'Racing' pads (green backing plate) installed as standard. You go a spare set of 'All Weather' pads (red backing plate) supplied with the brakes, while there are 'E-bike' (regal) and Fully Sintered (gilded) pad options aftermarket besides.
The signature green and blackness Hope box also includes the spares needed for shortening the pre-installed and bled hose. A simple merely beautifully machined and effective 'mortar and pestle' bleed kit (that works on nigh brakes) is available aftermarket. The lever and caliper come in either silvery or black anodized finish with blood-red, orange, bluish, majestic, silver and black anodized highlight options. You can too choose from standard plastic hoses or more crash/crimp/uplift proof braided hoses for £10 extra per brake.
To complete the gear up Hope sell their excellent floating discs separately. These mount a oestrus-treated (done using 1 of the most exciting machines in the Hope manufacturing plant) steel braking surface onto an alloy eye spider with joining rivets to provide the 'float' that allows for heat expansion. The rotors are sold separately in a range of 140, 160, 180, 183, 185mm (£l.00 // €threescore.00 // $65.00) and 200, 203, 220 & 225mm (£55.00 // €seventy.00 // $70.00) sizes in either half-dozen bolt or Centerlock splined format, and all the usual Promise anodized colors.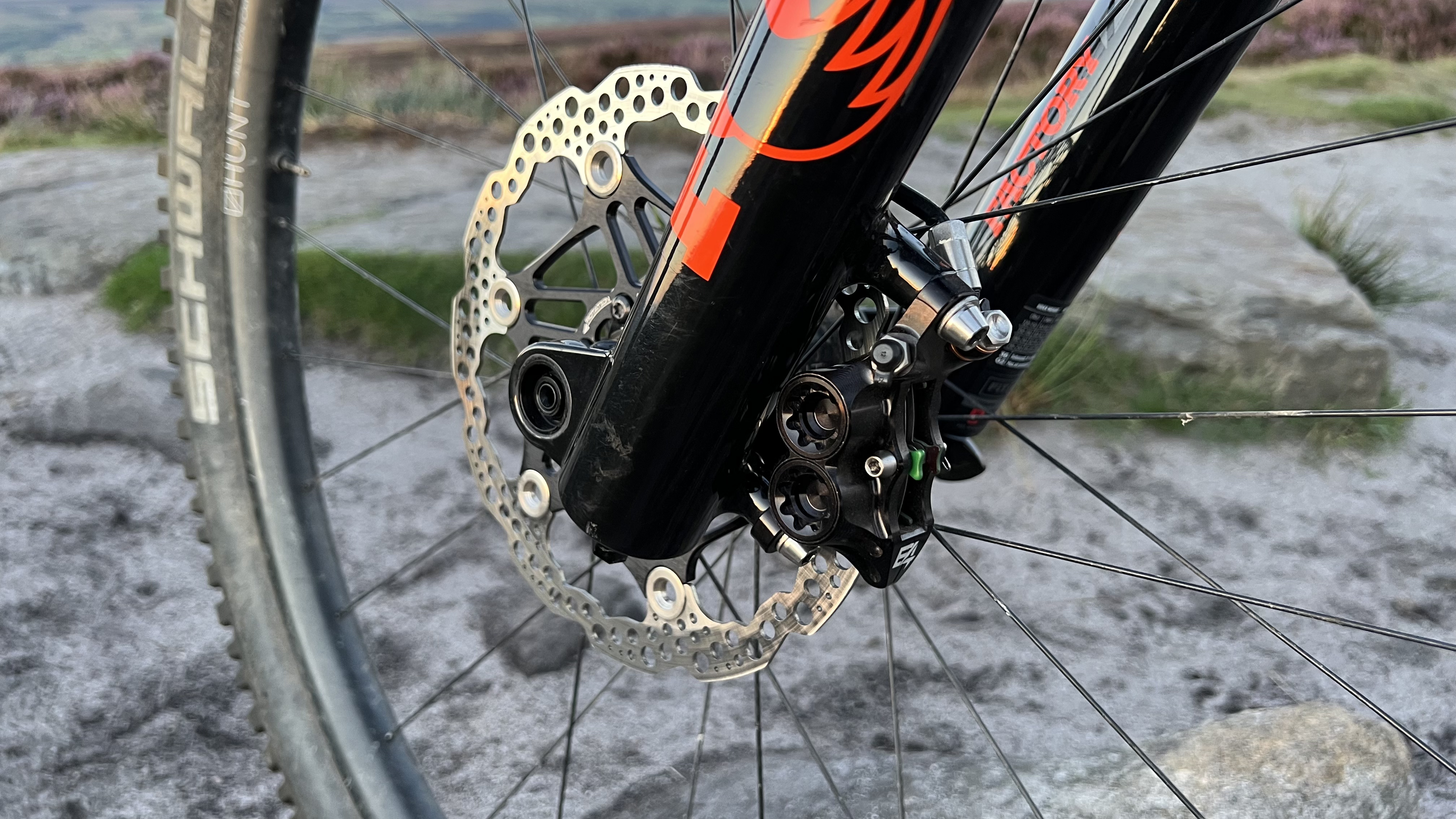 Performance
I'll come up straight out and say I was initially cynical nigh the new Tech iv E4 every bit I'd literally got tired of my arms exploding using Hope's Tech 3 levers on various test bikes over the years. I could see how the longer lever would certainly increase power, simply it seemed like a bit of a crude workaround rather than the complete overhaul the brakes needed. Immediate initial impressions didn't assistance as the longer levers really practise dramatically increment power – Hope say information technology's a 30 pct boost and I see no reason to fence – and I was as well heavy-handed with the super-low-cal feel at commencement. The levers feel very solid rather than 'squeezy' and the green pads bed in really quickly, so they seemed blunt and too 'bitey' on the first few car park pulls and local laps.
Once you've adjusted to the power, however, the change in pivot position and the roller bearing pin and piston actuation requite immaculate, superbly precise feedback. The modulation is super consistent and braking power reflects the corporeality of lever pull force near perfectly. That'south genuinely contained of the cleanly separated bite point and lever reach adapt too, so you get the same awesome feel wherever you lot like your levers to sit or commencement braking. The incremental friction reduction of the new cylinders, roller onto piston lever actuation and wobble-free pivot bearing merely feels glorious every time besides. I've liked them even more subsequently switching to the 'All Conditions' pads too as that reduces the potentially ferocious initial bite. It also extends lifespan too so, while I can see why Hope want to flex the maximum operation of their new anchors, I reckon switching to the red pads straight away is probably the best option for virtually users.
The only potential niggles are the fact the levers are side specific, so you tin't just flip them if a friend from overseas wants to use your bike. You sometimes get a metal on metal 'ballyhoo' of bite point adjuster onto lever body on release besides. I rarely noticed that when riding though and if information technology really bugs y'all when riding you lot tin can e'er put a scrap of tape/rubber under the contact point.
Otherwise, as long as you center the callipers accurately, retraction and piston reset has been totally well-baked and clear running throughout testing. While I've not been lucky plenty to have them into proper mountains my test colleague/conspirator at MBR, Mick Kirkman, has been punishing them down big foreign hills for months. He'south had absolutely zero complaints either, apart from rapid pad article of clothing of the 'Racing' pads in a mixed weather week in Molini Italy. They're currently going great on a dry Trans Savoie, though, and equally they are for me, they're now Mick's favourite enduro/trail brake.
While they've run totally trouble free, the fact that Hope accept a legendary reputation for customer support direct from the factory – and at many MTB events – is a real boost to long term value and peace of mind too. Hope's UK manufacturing has also given them a real toll and supply advantage recently so despite their ultra high quality and indulgent detailing they're very competitively priced. At the same brake and rotor weight as XT and 50g lighter than Code RSC brakes they're competitive on weight as well.
Verdict
Simply put Hope'south Enduro brakes have gone from being something I avoided using to my new favourite aggro anchor. The angular, side specific design might not piece of work for everyone and I reckon it would suit more people if they installed the 'All Conditions' pads as the default choice and the 'Race' as the optionals.
Simply when it comes to translating your speed reduction thoughts to the trail, the Hope Tech four E4 is one of the best mountain bike brakes effectually in terms of like shooting fish in a barrel and meaningful adjustment of featherlight feel, progressive modulation and make clean consistency. The brakes are competitive on price and weight, easier to fit than before, come up in a ton of colors, and Promise's customer back up is the best in the business.
Tech specs: Hope Tech 4 E4 restriction
Price:£195 / €245 / $245
Colors:
Black or silverish lever with red, orange, bluish, purple, silver and black anodised highlight options.
Weight:290g (brake) 180g (180mm floating rotor)
Source: https://www.bikeperfect.com/reviews/hope-tech-4-e4-mountain-bike-brake-review-revolution-through-evolution